Rachel Birthday
——————————————-10 am——————————————
Today is my birthday and I got lots of wishes from my family from Chinese WX, also from US FB, people post things on my wall (most from Rob's family), I want to thank all of them, and of course I want to  thank my darling Rob the most, he posted pics and a poem, trying to "explode" my FB.  He also told me he ordered something for me online, and I'm just waiting to see what it is. I still feel warm,  just a little less alone on my birthday, because I can feel my Rob's heart is with me.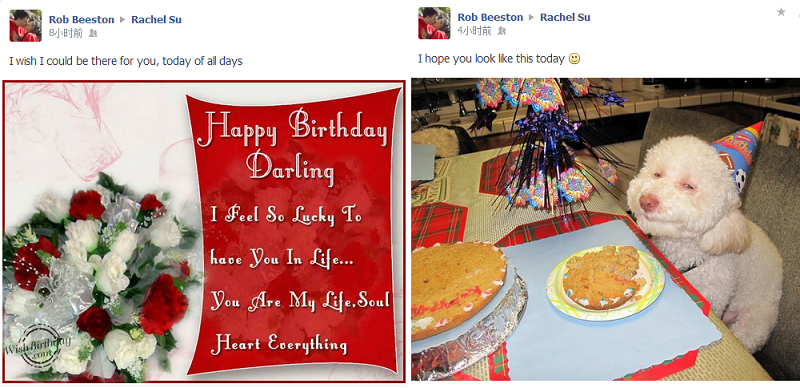 ———————————————–12 am———————————————————-
So I got 2 calls around 10am: In the first call, the customer service said they need confirm my address, so they can ask SZ local office to prepare it for me. Later on, another call came in and asked me again about the address, however, what they told me it's a completely different address, I was so worried, because I told them the exact address on first call, how could they mess up again? Or is that from someone else? I don't know…..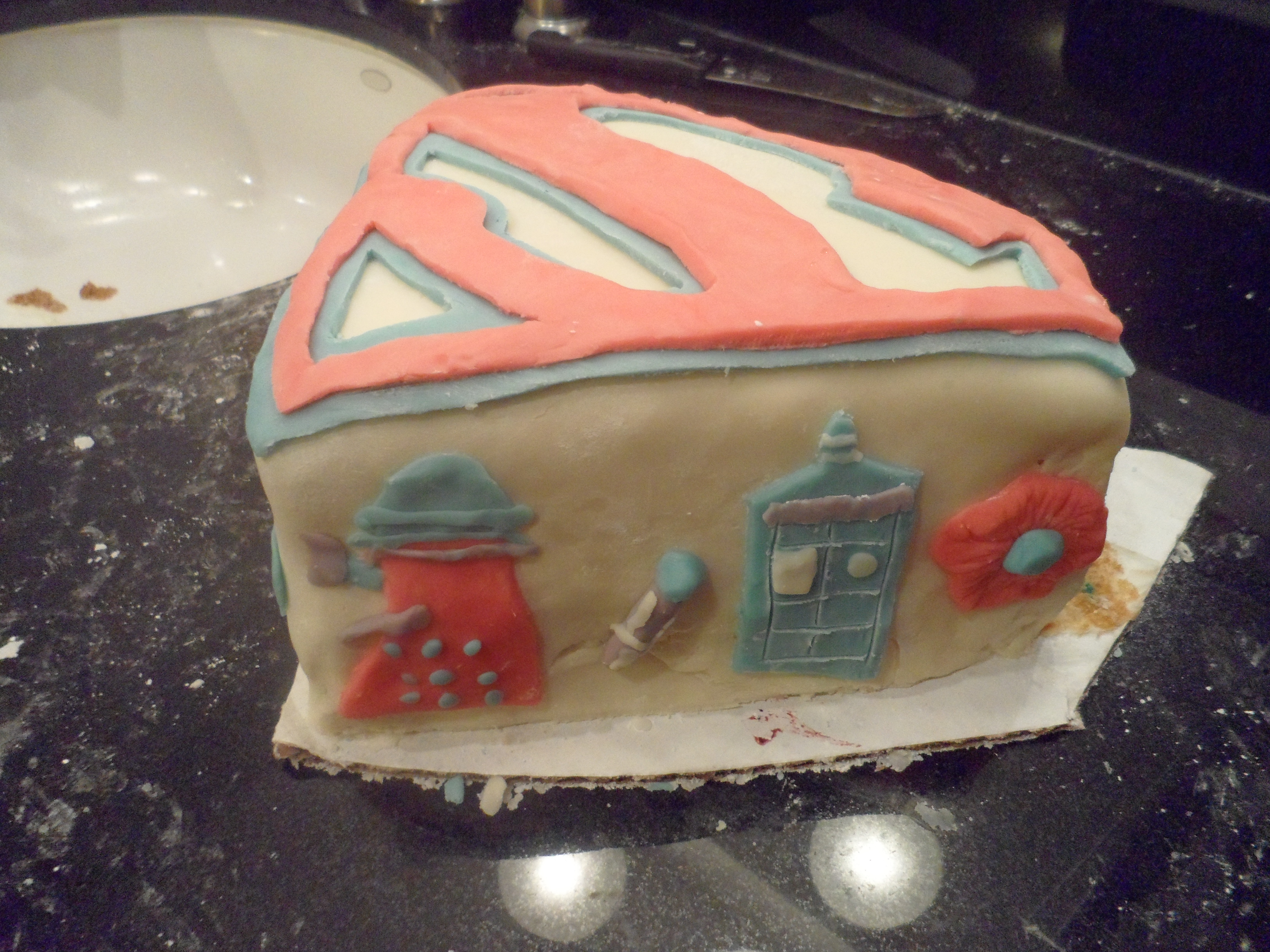 Around lunch time, I got a call ask me to go down stairs to pick up my cake, I wasn't expect a cake since my parents buy one for me every year. Last year, Rob made me a real special supergirl -DW cake, that's is first cake i had made by hand and just for me. This year, he still want to make me a cake, but because of the distance , he can't, so of course he sends me a cake since I told him no flowers.
The delivery woman is a stranger here, she didn't know where she was, and she had to ask me for directions  back to the subway….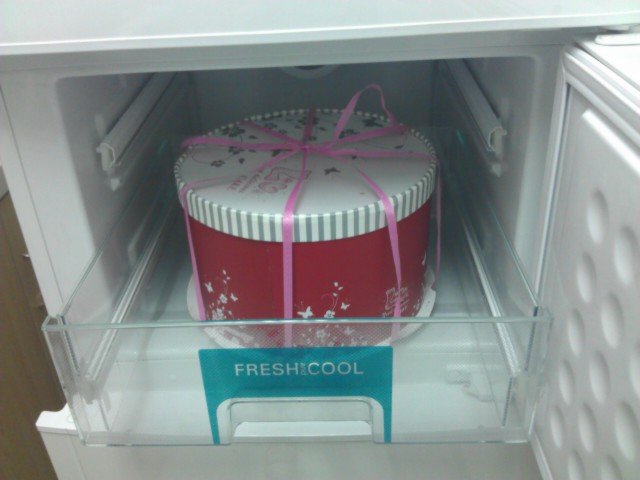 I got my cake and I am really happy, and in the next second I'm not sure what to do… On one hand I want to share it with my co-workers, but because of how it's packaged I can't re-pack it back and take it home, so my parents couldn't have any cake….My parents already know I got Rob's cake, and if 28 people share my cake in the office, there wouldn't be any cake for my parents, and when I get home, they will ask, where is Rob's cake…..So , I
put it in the refrigerator to take home later. It's so big that I had to take a drawer out so I could put the cake in. I can't open it until I'm back home, so I'm curious what it looks like!
I open the birthday card and start reading Rob's message…after I finished he called me…I guess we are just so connected. I told him about all the stories, and he said that is not the only gift, so I'm getting another one in the afternoon? So happy! Still, he won't tell me what it is, only that it's big and I may need 2 hands to carry it, so I should consider asking my dad to drive me home…..
As usual, I went out to have my lunch and talk to Rob over the phone. I went to Illy coffee shop and had lasagna. During my lunch, he told me he left a  hidden message for me from his poem…
Hoping for a special day for you,
Another birthday, you shouldn't be blue.
Perhaps there will be something special…
Presents for my darling Rachel!
You never know… 

But what this day really must be,
In order to give you a smile from me.
Reminding you of our special kissing,
The hugs and cuddles that we are missing.
Hopefully that time will return again soon,
Days of sunshine, nights under the moon.
And we can be together, never to part,
You and I, holding hands, sharing one heart.

So often we say that we long for each other,
Until our voices are raspy and smothered.

Painful, though, is our distance,
Every day is less resistance.
Nearer is the day I can hold you once more,
Gone will be the sadness forevermore.
—————————————2pm—————————————–
I tried to figure it out, I had a plan on how to solve it. I read it up and down, front word and last word all upside down, but it still didn't make sense. I really didn't know, and he laughed and was really proud he did good job… I guess so….it made it even more romantic, because he created this for me, and to a curious girl like myself,  I have no idea what it is. I always think I am smart, but now, I really feel lost, and it more makes me even more excited to work it out. He gave me a hint, tell me about looking at spacing… I thought he was doing something I had before to him, hiding the text in the background color… I selected all the text,but still nothing there…hm…so…what it is…..
and now, readers….can you figure it out?
|
|
|
|
V
He told me not words, but letters
Ah……..
That's really clever and sweet, isn't it? He brought it to another level, it's not just a poem now… yes, he is really good!! This is a really special gift, not just a poem, not just another poem anymore….what a meaningful gift….I guess you know why I love him so much….He can always surprise me. With him you can always feel refreshed….
And I am smart girl too…That's why he loves me, he gave, and he got feedback too,I gave him a response… a reply with a hidden message as well, and now it's his turn:
Tajnh uiua thank Liu colloost idio you kee, mlas I nosliy love keioaig aloie lee you !
I know he will enjoy it too. We are so alike, and can have so much fun together, Other people would look at us and don't know what's going on, and we laugh to each other…and makes them more even confused….