K1 Nightmare P2.5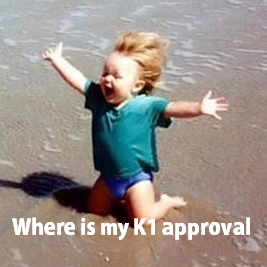 On April 24th, a day like any other, I was still lamenting that the approval process was still in limbo. Every day, several times a day, I would go to the site, put in my WAC number, and see that it was still in process.
This part takes the longest, and there was nothing to do but wait. I wasn't alone, due to the CSC slowdowns everyone was adrift. On the VisaJourney website there were people waiting much longer than me, eight months and more, and new people were coming in every day, looking for answers as to the delays.
Slowly, things began to speed up, and petitions before mine and after mine started getting approved a lot faster, but October filers were still in a valley of inaction. Still I checked every day for something to happen, several times a day.
I thought, "Once this part is over, then things can move a lot faster.."
And on this day of disappointment, like every day before it, I arrived home from work, talking to my darling Rachel on her way to work. We were discussing that approvals were picking up, and she asked me if I'd checked the status recently.
I told her that I'd checked a couple of hours ago and still no change. She asked me to try again, so I did.
"Holy S#!$!!!!!!!!!!!!!!!!"
"What???" She said
"We've been approved!!!"
Rachel has always been my lucky girl, and it was so fitting that we found out together. We were ecstatic, and finally beginning to feel like being together would be a reality. After 6 months of anxious waiting, it would be another 3 weeks to get to the NVC, A week to get through NVC, and then 4 days to the consulate, and perhaps another month to month and a half to the interview.
We had no idea what was to come next, and it would be more stressful than the first 6 months.
After about a week, I started calling the NVC to see if it had arrived. The process was simple, wait on hold, give the person your WAC number (I had it written down on a scrap of paper that I always kept on my desk, always handy.) and if it had arrived, they would ask you for a bunch of information to verify it. If it hadn't arrived, they would tell you that it wasn't in the system yet.
If it's not in the system, they ask for your approval date, and if it's been less than 15 days since approval, then they tell you to keep waiting.
By May 9th, it had been 15 days, and I was ready to take the next step…Called NVC, and found out it's 15 BUSINESS days… sigh….
Days passed…And on May 13th, it still hadn't arrived. 15 business days had passed and NVC gave me my next steps. I had to send an email to NVCResearch and wait for them to try to locate the file. They couldn't tell me how long it would take, but others that had gone through the same process said it took about two weeks. Basically you wait in a queue, and when they get to it, then you will get a response.
I, however, was not content to wait. I continued to call the NVC twice a day, just to see if it had arrived, and started sending out other emails and making calls.Every day it hadn't arrived, was another day I couldn't spend with my love.
After calling USCIS, I started noticing discrepancies. For example, the NVC says that it takes 15-20 days to reach the NVC after approval by USCIS. However, USCIS tier 1 support will tell you it takes 60-90 days. But at the tier 2 support level they will tell you that you can ask for a service request if it's 30 days past the approval date.
I contacted my Senator's office, and they contacted the CSC as well. And they were told that it would be at the NVC in 3-6 weeks. Since they provided a time frame, the Senator's office couldn't ask anything else until I was outside of the timeframe they provided.

I was, to borrow a well-fitting british term, "Gobsmacked" by this. I didn't have any clue what kind of expectation to have. What I did know was that people that had been approved and people that were approved after me, were already through the NVC and their applications were already being received at their respective consulates.
I sent an email off to the USCIS ombudsman, asking about the discrepancy, which I must say is probably the most worthless thing I have done. I have not received a single response to any inquiry I've made to them.
So there I am again….Waiting….Again, I'm not willing to do that… I start looking for more answers, and the further down the rabbit hole I go….
On May 17th, I tried USCIS again. Waited over an hour on hold to speak to a tier 2. Tier 2's are actual immigration officers, and while they do know more that the tier 1's, you can never be sure about anything they tell you.  You will get different answers from different people, and some of them are just plain wrong. You have to educate yourself as much as possible, to question the answers they give you.
Case in point was the Tier 2 woman who finally picked up the call….
First she tells me that it's been approved, and will be sent to NVC, but also tells me that in some cases, it doesn't get sent to the NVC at all, and can be sent directly to the consulate, and I should also check with them.
I said, how would it get an GUZ number if it's not sent to the NVC first?
She really didn't answer that, and switched to saying that it would get sent to the NVC.
I explained to her that it doesn't make sense, since half the petitions that were approved on my date were already at the NVC, and they had all arrived by may 10th.
Then she said it depends on the country….so I pointed out to her that there were some countries that had arrived while others from the same countries hadn't.
She said that each case was different…. I said they were all I-129F cases, all approved on the same day.
She asked me if I had placed a service request… I told her I had one pending with the NVC, but I would like to have one for the USCIS as well.
Then she said she couldn't put in a service request until 30 days after the approval date, and I could call back then.
I asked if she could at least tell me where my application was right now? She told me that after approval, there is nothing more logged about the case, so she didn't know.
I was done speaking to her and ended the call. I couldn't say if she was misinformed, or just plain lying to me to get rid of me. Thing is, when you call, they say that the calls are recorded for quality assurance… Doesn't anyone listen to them, and realize that there is BS being spouted?
Anyway, I continued the routine of calling the NVC twice a day. My little scrap of paper was no longer needed, as I could rattle off my WAC number off the top of my head.
By this point, I really knew the drill. other than waiting for NVC Research, there was nothing the people answering the phone could do for me. If they told me something that was wrong, I would correct them, and tell them why they were incorrect. I knew their script inside and out.
Since I could do nothing else but wait for the 30 day mark, I decided to do some research of my own. VisaJourney allows users to track their progress, and you can pull these numbers from the site to make comparisons. Granted that's assuming that people update their timelines, but it can give you a good idea. About 7% of the people that submit K1 visas are members of the site, so you can get a pretty good idea of what's going on.
What I found was that of the 40 or so people that were approved on April 24th, more that half were updated as received by the VNC. In later views, it appears that the others had not updated their timelines, as if they hadn't been received by now, they would be squawking about it the same as me. and ALL of them that updated their timelines had their files reach the NVC before May 10th.
USCIS sends out approved petitions in batches, and it looked like most of the people approved the same day as us went out in the same batch. So why wasn't ours included?
Finally, the 30 day mark arrived on May 23rd. Did the long wait to talk to a tier 2 so I could finally ask for a service request. Very simple, really…. Find my file and send it to the NVC.
A service request is taken by USCIS and sent to the service center. They have 5 days to respond. Again, I have to wait impatiently…
On May 30th I called up and waited to speak to a tier 2, to get the results. I wasn't interested in waiting for them to mail me an answer. It was good I didn't, because it was suppose to be sent to me by June 7th, and I've yet to receive it.
The tier two had a vaguely worded response that it would be going to the NVC, the word "expedited" was used, but the context was unclear.
It also said that "Standard processing time" to get to the NVC after approval was 60 to 90 days, which is also BS. It really seems like they pad the numbers to cover for their own ineptitude.
The tier 2 told me that he didn't have the authority to make them do anything (as much as he would like to sometimes) but did say that batches are sent to the NVC about every two weeks. So "it should be in the next batch", but who knows if the batch will be sent tomorrow, or the last batch was sent two days ago, and it will be two weeks before it's sent, plus a few days for delivery time.
Again… "Please wait"…"There's nothing more I can do"…The standard mantra.
The stress was really beginning to build on us. Did we do something wrong? Are they doing this to us on purpose? will we ever be together?
The daily frustration started spilling over. How could we discuss the wedding when we would have no idea when it would be? Could we arrange it before winter?
And what else is there to talk about? We can't discuss our future, it's on hold. we can't make plans, and we are both sick to death of telling each other how much we miss each other. We just want this all to stop and are considering breaking up just to put an end to it.
We've both been physically sick much more often, and Rachel is losing so much weight from stress that her pants from last year are so big they would fall down around her ankles if she tried to wear them (granted, I wouldn't mind if that happened to me). I'm getting migraines so severe that they lay me out for the entire day.
And yet they want us to wait, like it's no big deal.
Well, it is!
On June 5th, I contacted the Senator's office. We had 6 week mark, and it still hadn't arrived at the NVC. They agreed to begin checking into things again.
Two days later, and 24 days since I put in the request, I finally hear back from NVC Research!
Basically all it said was they didn't have it (DUH!) and they would contact USCIS on my behalf.
A duplicate email was also sent to the senator's office, and they contacted me to let me know and to get some more information from me.
June 12th I tried looking for answers at USCIS again. After a 2 hour wait on the phone, I was connected to a tier 2, and then lost the connection after a few seconds. Called back and waited another 2 hours, to try to get some answers as to where it was, and to try to get it sent out. There had been ample enough time for the USCIS to send it out from the service request and it still hadn't arrived. Still couldn't get any straight answers and more conflicting information.
I sent emails to CSC-NCSC-Followup, the USCIS Ombudsman, and scopsscata requesting that my petition be sent to the NVC immediately.
Today has been more of the same. Contacted a USCIS Tier 2 in the morning, waited an hour to talk to him. And he told me that even though it had been approved, it was still going through "Advanced processing" (AP) and that's why it hadn't been sent.
This was all absolute nonsense. once an application is approved, USCIS is done with it. AP is actually done, but it's done by the NVC.
Then, later that morning NVC Research sent the Senator's office another email:
As of yesterday, the NVC researched the application with the CIS's California Service center and have requested the A-File from the National Records Center for review. If your fiancé's I-129F petition is contained in the A-file, it will be forwarded to the NVC for immediate processing.  Our office will be notified once the California Service Center completes their review for this file.
This was a real WTF moment. Up until this point, I was told that the file was still at the CSC, but they are requesting it from the NRC? This ended up creating more questions than it answered.
Time to call USCIS again… You always have to give the tier 1 a reason to send me to a tier 2, and so I told him what the tier 2 had told me earlier, and even the tier 1 knew it was BS, so on I go again to wait on hold… and the message comes on and said the wait time was 266 minutes!!
That's a new record for wait time for me. Although, in the end it was over 3 hours, not 4.5.
This tier 2 was an older guy who talked a lot and said little. Seems like he had been there a long time though. He was telling me how much better things were over a few years ago. That didn't really matter to me at this point.
I went over with him everything that was happening, and he asked me a couple questions about me, to see if there was something about me that would give me extra scrutiny, like,  ("Are you an American citizen?" – "Yes", "Have I ever filed a K1 before?" –  "No") and he said then that wouldn't be the issue. Most likely the file was just marked wrong, and that happens sometimes.
I'm inclined to believe that, as they had been bringing in new people to deal with the recent influx of DACA applications… A lot of inexperienced  people equals more mistakes.
He looked up the service request from May, and said that the person who submitted it worded it wrong, and that's why there was a vague answer and also why they didn't do anything.
He also said that that there isn't any way to submit a new request in the system until enough time has passed from the first one, and I could try again in Mid-July. (this really got me going, as it makes no sense why I would have to wait for a month to correct something that could be corrected right now.) He just kept coming back to "The system won't allow it, and it can't be overridden."
He agreed that it was stupid, but that the NVC request would be taken care of faster, since it's already started.
So that's where we are now, and considering the timelines of other people that went through similar situations, it's fair to say that it will be another 4-6 weeks before it makes it to the NVC.
All because somebody put NRC on our file instead of NVC.
It's been over 50 days now since our approval. 50 days of spinning my wheels, begging for information, waiting on the phone, getting the runaround and being told to wait a little longer.
Everyone involved has been putting in a lot of time to locate it, and on top of that, this could have all been avoided, if I could have just gotten a straight answer as to where is was 2 weeks after it was approved, and someone there could have looked into it instead of needlessly putting time barriers to stall and delay what should be a simple process.
There is no logical reason for this process, and all it does is put unnecessary stress on couples waiting to be united. It's grossly uncaring and unfair that this has happened to me, or anyone else in a similar situation.
It's unbelievably frustrating when every step of the way is met with more waiting and more delays, when that is the very thing that the K1 process is supposed to eliminate.
it might just be 5 days here and 7 days there, but 2 months can add up fast, and if this had been sent out properly to begin with, my fiancee would be getting ready for her interview in the next week or so. As it stands now, it will be at least another 3 months.
You don't have to listen to the person you love, crying because they miss you and can't be with you. You don't have to continually explain why if America is such a great country, why can't the government care and take some action, and not be able to come up with a decent reply.
This not only harms citizens, but it also harms out perception in the rest of the world, as a country who can't seem to manage it's own paperwork.
I don't wish to write another essay like this, I just want everything to be completed and Rachel and I can finally begin the life we've been planning for so long.
To be continued…
———————————————
Short Version Timeline:
April 24th, 2013 – NOA2
May 10th.-other people's applications approved the same day have arrived at the NVC
NVC won't do anything until u wait 20 days.
(20 days since approval) – May 14th:
emailed NVC research to locate the file.
spoke to my senator's office, and they contacted USCIS as well
with hope wait for one week
(5 days later) – May 19th – senator's office informed by USCIS, told it would be at the NVC in 3 to 6 weeks from the approval date ( june 5th, at the latest)
(30 days from approval) – May 24th – met their rule that u have to wait 30 days then u can spoke to a tier 2 at USCIS to open a service request.
(one week later) –  May 29th- Outcome of service request – still at CSC (never got mail conformation)
(another one week waited) – June 4th – contact the Senator's office again. file now outside of time quoted by USCIS
(after request submited 3 weeks later ) June 5th -finally got response from NVC Research, informing me that they could not locate the file, and would contact USCIS as well. so another wait
(another week pasted) – June 13th – got news from senator's office that the file is at the NRC*. neither in CSC  or NVC. (*accuracy to be determined)